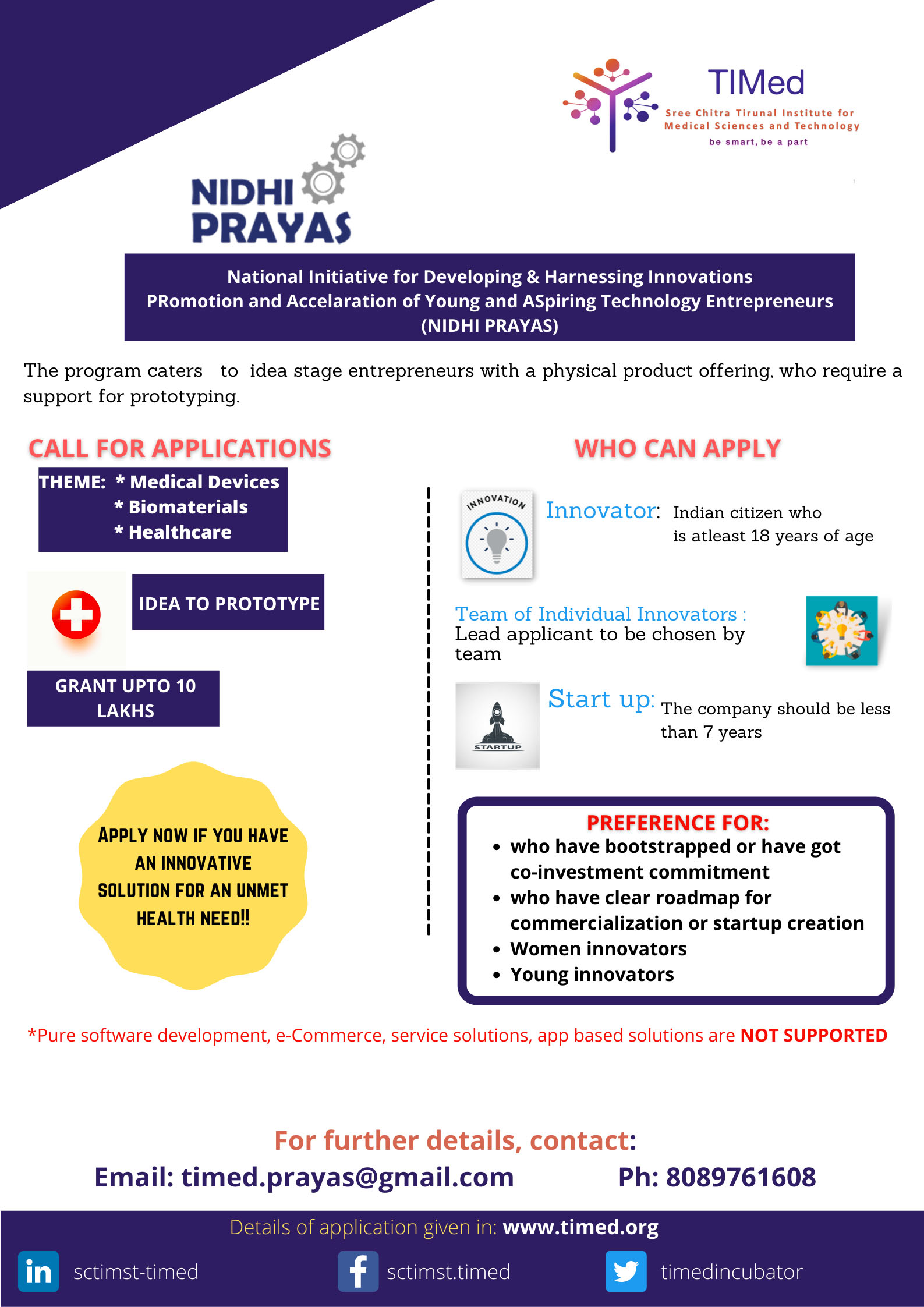 Grant in Aid and Support for Early Stage Innovators
At present, even though there are several schemes for supporting innovation projects, there is a profound lack of support for early stage prototyping & trying out of innovative ideas causing many innovators to lose interest in their ventures in the absence of support at that critical juncture.

There is a definite need to address the gap in the very early stage idea/ proof of concept funding. National Initiative for Developing and Harnessing Innovations (NIDHI) is an umbrella programme conceived and developed by the Department of Science & Technology (DST), Government of India, for nurturing ideas and innovations (knowledge-based and technology-driven) into successful start-ups.

Under this initiative, DST has launched National Initiative for Developing and Harnessing Innovations- Promoting and Accelerating Young and ASpiring innovators (NIDHI-PRAYAS) program. This program caters to idea-stage entrepreneurs with a physical product offering, who require support for prototyping. It would also facilitate the innovators with the physical infrastructure, technical guidance, business mentorship etc. This support shall allow the innovators to try their ideas without fear of failure, hence allowing them to reach a stage where they have a ready product and are willing to approach incubators for commercialization. Hence NIDHI-PRAYAS can be considered a pre-incubation initiative and a source of pipeline for incubators.
Objectives of NIDHI PRAYAS
To enable translation of an innovative idea to a prototype.
To provide a platform for faster experimentation and modify approaches in the idea to market journey.
To generate innovative solutions relevant to the local and global problems.
To attract a large number of youth who demonstrates problem solving zeal and abilities to work on their new technology/knowledge/innovation based startups.
To enhance the pipeline in terms of quality and quantity of innovative startups to the incubators.
To build a vibrant innovation ecosystem, by establishing a network between innovators, academia, mentors and incubators.
For more details on NIDHI PRAYAS, please visit
For further details on NIDHI PRAYAS programme at SCTIMST-TIMed please contact:
Mr Aswin R Krishnan
Project Coordinator-Nidhi Prayas
Mob: 8089761608
Email: timed@sctimst.ac.in, timed.prayas@gmail.com
Please send a brief write-up of your proposed work initially to timed.prayas @gmail.com
---